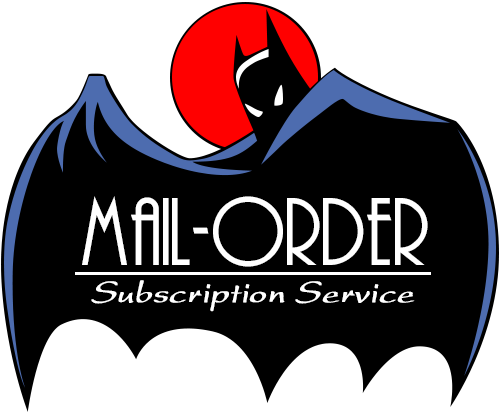 We are happy to offer our tried and tested monthly comic subscription service.
---
We have been supplying comic collectors with comic subscriptions for over 20 years and are confident that our service can cater for you and your buying habits.
The Service In A Nut-Shell:
Monthly comic deliveries with FREE postage
20% off all new comics when you buy 5 or more per month
Expert service from friendly staff
All modern/standard size comics bagged and boarded
Secure packaging with free tracking available for orders over £25
20+ years of comics expertise
No payment methods held on file
No deposit required
Payments accepted via PayPal, phone or in person at our Croydon store
How Does It Work?
---
1. Fill out our comic subscription registration form




2. Comics will be pulled from the next available issue or the requested number




3. You will be invoiced monthly via PayPal




4. Once paid, your comics will be bagged & boarded, securely packed and then posted!


How Much Does It Cost?
---
We believe in total transparency which means there are no hidden charges with our subscription service.
Bags, boards and UK postage are included in the prices of our comics so what you see is what you get: no additional charges on your comic subscription, ever. Plus, if you order 5 or more comics per month you will receive 20% discount off all new comics including any variants.
Comic prices are as follows:
| | | |
| --- | --- | --- |
| USD Price | GBP Price | 20% Discount |
| $2.99 | £3.00 | £2.40 |
| $3.99 | £3.55 | £2.84 |
| $4.99 | £4.35 | £3.48 |
| $5.99 | £5.20 | £4.16 |
| $6.99 | £6.40 | £5.12 |
| $7.99 | £6.70 | £5.36 |
| $8.99 | £8.00 | £6.40 |
| $9.99 | £8.70 | £6.96 |
Once paid, your comics will be bagged, boarded and securely packaged in either a stiff cardboard mailer or if required, a double walled cardboard box filled with packing chips or bubble wrap. After 20+ years of sending comics through the post we are extremely confident that your comics will arrive in tip-top condition.
What About Variants?
---

We always aim to offer exactly what you request but sometimes this can be difficult if we cannot meet the demand for a certain variant (i.e. ratio variants & limited editions) or a low print-run book that has been allocated at distributor level.
Variants and low print-run comics will work on a first come first served basis. To avoid disappointment please add titles to your list as soon as possible.
We price our variants based on the market value on the day of release, we also allow our customers to set a limit on how much they would be willing to pay for any particular variant. All low print-run books are priced at cover price regardless of the current market value which means that you will never pay more than cover price for any standard comic as long as it is ordered at least one week before release.
You will also receive 20% off any variant on your order if you have ordered 5 or more comics during the month in question.
What about Cancellations?
---

Titles can be amended or cancelled from your subscription at any time, just let us know which title(s) you would like to cancel or amend and we will take them off your list. We ask that you purchase any comics from the series that you'd like to cancel that have already been set aside for you.
If you'd like to cancel your entire subscription then again, please let us know as soon as possible and we will stop any further comics being added to your box. As above, the only thing that we require is that you clear the comics already pulled for you before the closure of your account.
I've Got More Questions! (FAQ)
---

Q. Can I collect my comics from the shop if I am in the area?
A. Absolutely! If you're ever around the Croydon area feel free to swing by and pick up your comics. You will get your usual 5 or more discount on collection and again when you are invoiced for your mail orders even if you have less than 5 comics being sent out.
---
Q. How many copies of a comic can I order?
A. You can order up to 2 copies of each cover of any given comic. The reason we put this limit in place is to ensure that all of our customers have a fair chance of getting the comics that they would like.
---
Q. My comics got damaged in the post, what will you do?
A. We will always aim to replace, like for like, any comics that sustain damage in the post. In rare cases this may not be possible. In those cases we will either replace the comic with a variant of the issue (of the same value), a later printing or offer a full refund/credit to your account. We send out thousands of comics every week with very few damages, it is rare that this will happen.
---
Q. How long will you hold my comics for?
A. We will hold comics in your box for 4 weeks, if you have not collected your subscription after 4 weeks your account will be put on hold. If you do not clear your box shortly after your account is put on hold; all comics will be returned to stock and your account will be closed permanently.
---
Q. Tom said my favourite comic is rubbish... Is he right?
A. Tom is rarely right, if ever. Whatever he said about your favourite comic is probably not true. Even if it is; you do you! (P.S. Tom's favourite comic is The Darkness so he doesn't have a leg to stand on)
---
Q. Greg said Rob Liefeld is a bad artist but art is subjective.
A. Rob Liefeld is objectively bad, sorry.
---
Q. I mentioned Warhammer to Chris and now he's locked me in the shop and won't stop talking about it whilst showing me photos of his models, what do I do?
A. This can be a tough situation. You are advised to inform Chris politely that you need to go to a doctor's appointment and that you will follow his Instagram.
---
Q. I don't feel like you guys are taking this section seriously.
A. We are, trust us. We're deadly serious
---
Q. What is your favourite comic?
A.
Steve - Black Bolt bruv.
Alison - I love all comics equally
Chris - Asgardian Wars by Art Adams. It was the very first graphic I picked up and I fell in love with his artwork.
Paul - Probably some indie comic you've never heard of or old school X-Men.
Tom - Transmetropolitan - Scorching black humour, scathing sci-fi narratives so accurate you'll be wondering which crystal ball Ellis happened to own, and a sense of the profound that should have been impossible whilst taking aim at everything under the Sun - Ellis delivers the script of his career and pulls off a masterpiece. All whilst forcing you to deeply care for 3 utter sh**bags.
I wish I'd written it.
Dom - Silver Surfer, I really like how shiny and naked he is.
Emma - I may work with them but I honestly don't read them so wouldn't even know where to start! I think the only series I've read was the first Umbrella Academy release however long ago that was.
Rich - I'd probably have to say New Mutants #98 coz of Deadpool and it got me collecting and reading. Not a great book I know but it got me into it so I'd say that.
Greg - Anything by Ed Brubaker and Sean Phillps, but specifically the Criminal series of books: They're a masterclass in non-linear storytelling focusing on a huge cast of characters over multiple decades. Also, Stray Bullets by David Lapham, it's like Criminal (non-linear) but about 100% more surreal; it's like if Pulp Fiction was better and 10 volumes long.
Alright, I'm In! How Do I Sign Up?
---