We are delighted to be able to offer a CGC submission service for your own books!
---
As an authorised CGC dealer with a wealth of experience dealing with submissions we can take care of all of the ins and outs of submitting your comics to CGC for grading.
The Service In A Nut-Shell:
No headaches filling out forms
No need to worry about shipping to and from the US
An "All in one" price, what you see is what you get
Free advice from our experts on your submissions
Insured shipping to and from the US
No need to deal with messy customs paperwork
How Does It Work?
---
1. Get in touch with us to start the ball rolling




2. Post the comics you'd like grading to us or drop them off in-store




3. We fill out all of the paperwork and send your comics to CGC in the US




4. Once your comics have been graded they can either be collected or posted out to you for a fee


How Much Does It Cost?
---
CGC encapsulation prices vary depending on the age and value of the comic. We have listed all of our prices below, if you are unsure of which category your comic would fall in to then please don't hesitate to get in touch.
CGC submission prices are as follows:
| | |
| --- | --- |
| Comic Age | Service Charge |
| 1975-Present | £33 |
| Pre-1975 | £36 |
| 1975-Present Clean & Press | £15 |
| Pre 1975 Clean & Press | £20 |
All prices above exclude the postage charge for the completed slabbed comic to be returned to you. This is charged at £12 per shipment. Alternatively you can collect, free of charge, from our Croydon store.
How Long Does It Take?
---

Turnaround times can vary dramatically. We typically send off at least one batch of comics per month to CGC which means that it could be up to 30 days before the dispatch of your comics to CGC
After this; the ball is in CGC's court. CGC update their website with the current turnaround times which can be found here.

Please feel free to get in touch after you have submitted your comics to ask about any updates.
Once your comics are back from grading, we will give you a call or an email to let you know that they are ready to be collected or dispatched to you.
Can You Accept CGC Signature Series?
--- We will occasionally take submissions for CGC Signature Series comics. You will be required to submit your comic by a specified date so that we can have it signed and/or sketched and then sent to CGC.
If you comic has already been signed and you would like to submit it then this will more than likely receive a green/qualified label, we are unable to certify a signature on behalf of CGC.
What Labels Can I Get?
---
CGC label their slabs with various colours depending on the condition of the comic. Below are examples of the most common labels that a comic may receive.
---
Universal Label (Blue)
This label is given to collectibles that are simply the grade as marked, with no qualifiers or special considerations.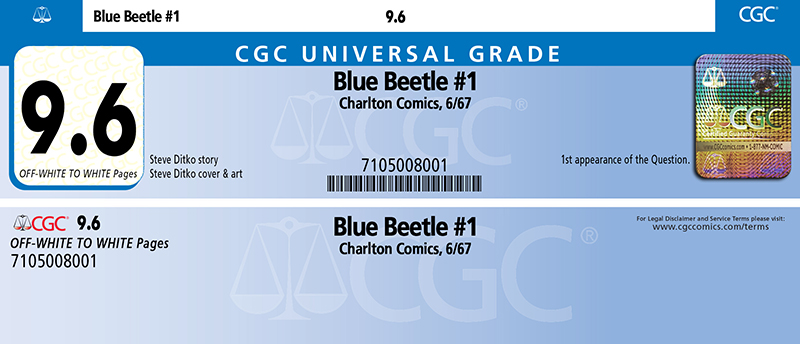 ---
CGC Signature Series Label (Yellow)
This label is applied to collectibles that have been signed by someone of significance to the collectible, under the direct observation of a CGC authorized witness, and are thus certified by CGC as having an authentic signature. In select instances, CGC may accept signed collectibles directly from the signer/publisher. Signature Series labels can also be combined with Qualified, Restored and Conserved labels if that applies to the comic in question.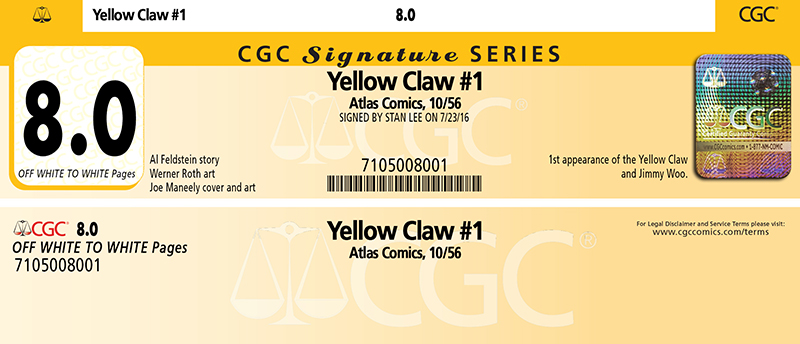 ---
Qualified Label (Green)
A Qualified label is used by CGC for collectibles that have a significant defect that needs specific description, or to note an unauthenticated signature (one which was not witnessed by CGC). For example, a comic book with a missing coupon that otherwise grades 6.0 will receive a Qualified grade, avoiding a considerably lower grade. CGC would give this book a Qualified grade of 6.0 and a Label Text notation "COUPON MISSING FROM PAGE 10, DOES NOT AFFECT STORY." Or, if the book is signed on the cover it may be noted as "NAME WRITTEN ON COVER IN MARKER."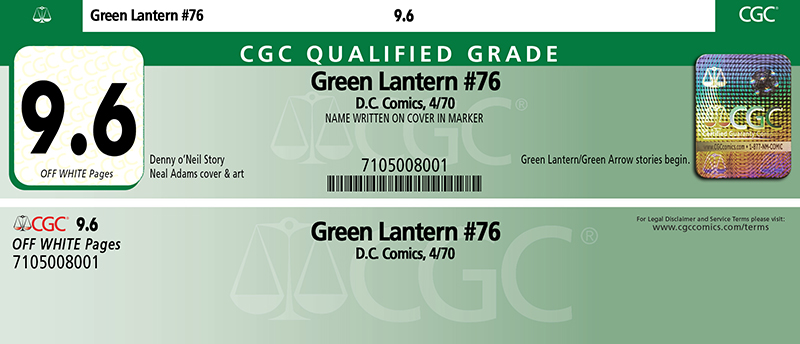 ---
Restored Label (Purple)
This label is applied to any comic book that has evidence of repair so that it will appear as it did when it was in its original condition. Restoration can come in a variety of degrees, from slight professional restoration (A-1) to extensive amateur restoration (C-5).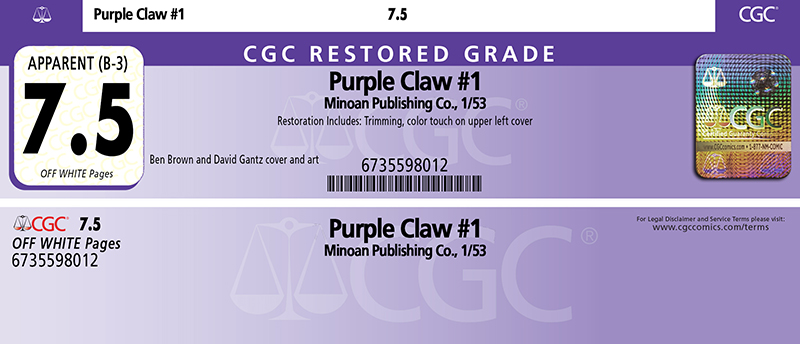 ---
Pedigree Label (Gold)
This label is applied to any comic book that is part of a CGC recognized pedigree collection. Many pedigree collections were recognized and accepted by the hobby before CGC came into existence.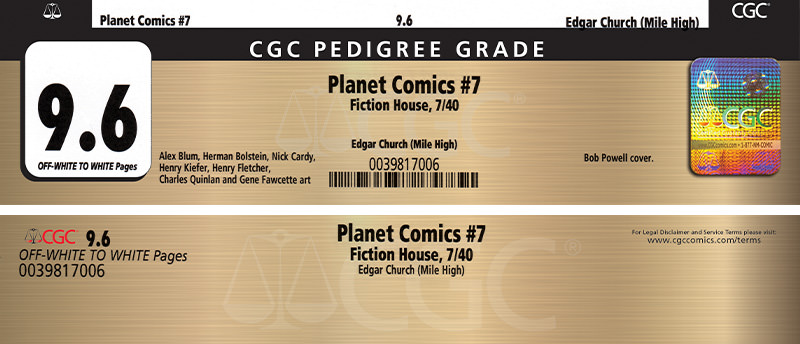 ---
No Grade
NG – This label stands for "No Grade" and is assigned to comics that are either missing the entire cover, or one half or more of the interior pages, or both. It may also be assigned to comics that are only being verified as authentic, per CGC's discretion.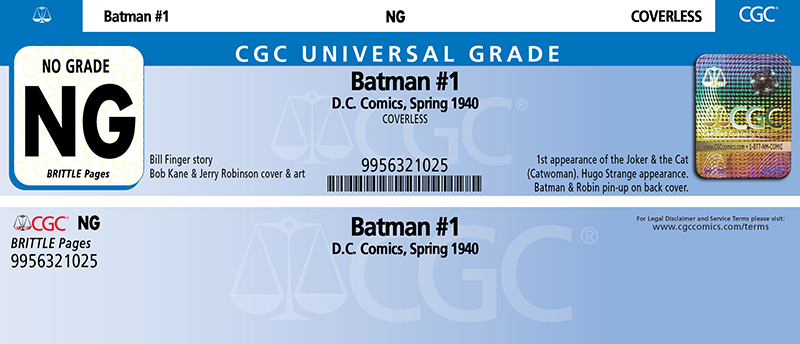 ---
Individual Page
PG – This label is assigned to either a single page or wrap from the interior of a comic book. Pages that cannot be associated with a specific issue will not be certified by CGC.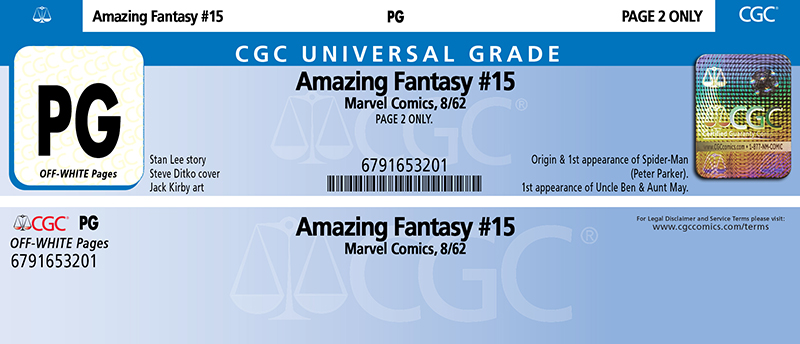 ---
Cover
CVR – This label is assigned to covers only, whether the front cover, back cover, or both. Back covers that cannot be associated with a specific issue will not be certified by CGC, however. An example of this scenario is the back cover to Amazing Fantasy #15, which is common to other Marvel comics printed that same month, as well as other months. If CGC cannot definitively tell the back cover is from Amazing Fantasy #15, it will be not be graded.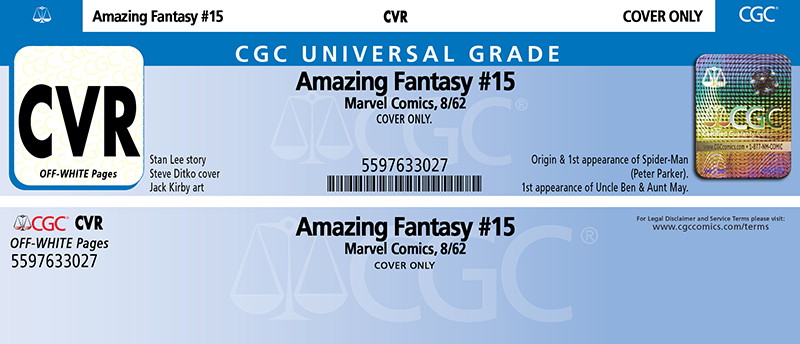 ---
Conserved Label (Blue/Grey)
This label is applied to any comic book with specific repairs done to improve the structural integrity and long-term preservation. These repairs include tear seals support, staple replacement, piece reattachment and certain kinds of cleaning.